Royal Canin Obesity Management DP 42 is a dietetic complete dry food for cats over 1 year in age prone to weight problems. Low energy density.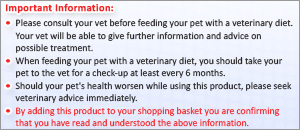 Royal Canin Veterinary Diet – Obesity Management DP 42 is a high-protein, low-calorie dry food well tolerated by most cats. A high-protein food is suited to cats in need of losing weight, since proteins contain 30% less energy than a similar level of carbohydrates and counteract potential muscle loss.
Indications:
If your pet is overweight
If your pet has constipation
Contraindications:
Kittens, pregnancy or lactation
Key benefits:
Rich in protein: Prevents loss of muscle mass when losing weight due to high protein content.
Balanced nutrients: The addition of nutrients, vitamins and minerals prevents deficiencies through reduced calorie intake.
Bone and joint health: Glucosamine (stimulates glycosaminoglycans production) and chondroitin sulphate (reduces enzymatic degradation of chondrocytes) combat degenerative joint disease.
EPA/DHA: Fatty acids keep the digestive system and skin healthy. As long-chain omega-3 fatty acids, docosahexaenoic acid (DHA) and eicosapentaenoic acid (EPA) decrease inflammatory joint reactions.
Changing your pet's diet and length of treatment:

The length of time your pet needs to stay on a reducing diet depends on how much weight needs to be lost. Ideal weight loss is 1 to 3% of bodyweight per week. To prevent the development hepatic lipidosis, make sure that your cat takes well to its new feed.