Hill's Science Plan Dry Dog Food
Hill's Science Plan Top Offers:
Price £ (incl. VAT)
Quantity
Buy

More photos (19)


(2 reviews )

Hill's Science Plan Dry Dog Food Multibuys
Hill's Science Plan is a premium dog food. As well as tasty dog food in many flavours, Hill's provides unique products like Oral Care and Sensitive Skin.

Delivery in 1-3 working days More

Hill's Adult Large Breed Chicken: 2 x 12kg
individually priced

£63.98


Now

£62.99


( £2.62 / kg)


Hill's Adult Large Breed Light Chicken: 2 x 12kg
individually priced

£65.98


Now

£64.99


( £2.71 / kg)


Hill's Adult Large Breed Lamb & Rice: 2 x 12kg
individually priced

£65.98


Now

£64.99


( £2.71 / kg)


Hill's Adult Medium Breed Chicken: 2 x 12kg
individually priced

£63.98


Now

£62.99


( £2.62 / kg)


Hill's Adult Medium Breed Lamb & Rice: 2 x 12kg
individually priced

£67.98


Now

£65.99


( £2.75 / kg)


Hill's Adult Mini with Chicken: 2 x 7kg
individually priced

£51.98


Now

£49.99


( £3.33 / kg)


Hill's Adult Small & Miniature Chicken: 2 x 6.5kg
individually priced

£57.98


Now

£55.99


( £4.31 / kg)


Hill's Adult Performance Chicken: 2 x 12kg
individually priced

£69.98


Now

£67.99


( £2.83 / kg)


Hill's Puppy Large Breed Chicken: 2 x 11kg
individually priced

£63.98


Now

£62.99


( £2.86 / kg)


Hill's Puppy Medium Breed Chicken: 2 x 12kg
individually priced

£65.98


Now

£64.99


( £2.71 / kg)


Hill's Puppy Medium Breed Lamb & Rice: 2 x 12kg
individually priced

£65.98


Now

£64.99


( £2.71 / kg)


Hill's Puppy Small & Miniature Chicken & Turkey: 3 x 1.5kg
individually priced

£25.47


Now

£23.99


( £5.33 / kg)


Hill's Mature 5+ Longevity Large Breed: 2 x 12kg
individually priced

£65.98


Now

£64.99


( £2.71 / kg)


Hill's Mature 7+ Light Chicken: 2 x 12kg
individually priced

£67.98


Now

£65.99


( £2.75 / kg)


Hill's Mature 7+ Longevity Medium Chicken: 2 x 12kg
individually priced

£65.98


Now

£63.99


( £2.67 / kg)


Hill's Mature 7+ Longevity Medium Lamb & Rice: 2 x 12kg
individually priced

£67.98


Now

£65.99


( £2.75 / kg)


Hill's Mature 7+ Small & Miniature Chicken: 3 x 3kg
individually priced

£46.47


Now

£43.99


( £4.89 / kg)


Hill's Sensitive Stomach: 2 x 12kg
individually priced

£69.98


Now

£68.99


( £2.87 / kg)


Hill's Adult Oral Care Chicken: 3 x 2kg
individually priced

£28.47


Now

£26.99


( £4.50 / kg)


Hill's Healthy Mobility Large Breed: 2 x 12kg
individually priced

£69.98


Now

£68.99


( £2.87 / kg)


Hill's Healthy Mobility Medium Breed: 2 x 12kg
individually priced

£71.98


Now

£70.99


( £2.96 / kg)


Hill's Healthy Mobility Mini Chicken: 3 x 3kg
individually priced

£40.47


Now

£37.99


( £4.22 / kg)


Hill's Adult Light Chicken: 2 x 12kg
individually priced

£65.98


Now

£64.99


( £2.71 / kg)


Hill's Adult Light Mini Chicken: 3 x 2.5kg
individually priced

£34.47


Now

£32.99


( £4.40 / kg)


Hill's Adult Large Breed:
Price £ (incl. VAT)
Quantity
Buy

More photos (2)


(6 reviews )

Hill's Science Plan Adult Advanced Fitness Large - Chicken
Hill's Science Plan Advanced Fitness Large Breed with Chicken has been developed for adult dogs over 25kg in weight. Delicious taste with all necessary nutrients and a unique antioxidant formula.

Delivery in 1-3 working days More

12kg
RRP*

£50.50


Our Price

£31.99


( £2.67 / kg)


18kg
RRP*

£73.69


Our Price

£46.99


( £2.61 / kg)


Multibuy: 2 x 12kg
individually priced

£63.98


Now

£62.99


( £2.62 / kg)



More photos (2)


(5 reviews )

Hill's Science Plan Adult Light Large Breed - Chicken
Hill's Science Plan Light Large Breed – Chicken is developed for adult dogs weighing over 25kg that only require a low calorie intake, including neutered, overweight and inactive dogs.

Delivery in 1-3 working days More

12kg
RRP*

£51.49


Our Price

£32.99


( £2.75 / kg)


Multibuy: 2 x 12kg
individually priced

£65.98


Now

£64.99


( £2.71 / kg)



More photos (2)


(5 reviews )

Hill's Science Plan Adult Advanced Fitness Large Lamb & Rice
Hill's Science Plan Advanced Fitness – Lamb & Rice is ideal for large-breed adult dogs (25kg +) with average activity levels. Contains chondroitin and naturally sourced glucosamine for strong joints.

Delivery in 1-3 working days More

12kg
RRP*

£50.50


Our Price

£32.99


( £2.75 / kg)


Multibuy: 2 x 12kg
individually priced

£65.98


Now

£64.99


( £2.71 / kg)


Hill's Adult:
Price £ (incl. VAT)
Quantity
Buy

More photos (2)


(5 reviews )

Hill's Science Plan Adult Advanced Fitness Medium - Chicken
Hill's Science Plan Advanced Fitness Medium – Chicken is ideal for all breeds of adult dog between the age of 1 and 6 years. Essential fatty acids promote healthy skin and glossy coat. Easy to digest.

Delivery in 1-3 working days More

12kg
RRP*

£50.50


Our Price

£31.99


( £2.67 / kg)


Multibuy: 2 x 12kg
individually priced

£63.98


Now

£62.99


( £2.62 / kg)



More photos (2)


(5 reviews )

Hill's Science Plan Adult Advanced Fitness - Lamb & Rice
Hill's Science Plan Advanced Fitness – Lamb & Rice is ideal for all adult dogs between 1 and 6 years of age. Highly digestible and tastes delicious. Promotes a healthy appearance and lifestyle.

Delivery in 1-3 working days More

12kg
RRP*

£50.50


Our Price

£33.99


( £2.83 / kg)


Multibuy: 2 x 12kg
individually priced

£67.98


Now

£65.99


( £2.75 / kg)


Hill's Science Plan Adult Advanced Fitness - Tuna & Rice
Specialised nutrition for active dogs, this tasty dry food contains high-quality protein to support lean muscle and healthy vital organs. With antioxidants, omega fatty acids and beta-carotene.

Delivery in 1-3 working days More

12kg
RRP*

£50.50


Our Price

£34.99


( £2.92 / kg)


Multibuy: 2 x 12kg
individually priced

£69.98


Now

£67.99


( £2.83 / kg)



More photos (2)


(5 reviews )

Hill's Science Plan Adult Advanced Fitness Mini - Chicken
Keep your small dog fit and active with this chicken-rich dish, in an optimised kibble size and full of vital antioxidants and protein to keep muscles strong and lean and fur glossy and smooth.

Delivery in 1-3 working days More

2.5kg
RRP*

£14.49


Our Price

£10.99


( £4.40 / kg)


7kg
RRP*

£37.00


Our Price

£25.99


( £3.71 / kg)


Multibuy: 2 x 7kg
individually priced

£51.98


Now

£49.99


( £3.57 / kg)


Hill's Science Plan Canine Small & Miniature Adult - Chicken
Formulated to support immunity and good oral health in adult small & miniature breed dogs, this complete and balanced dry food contains antioxidants, fruit & vegetables.

Delivery in 1-3 working days More

1.5kg
RRP*

£10.59


Our Price

£7.79


( £5.19 / kg)


6.5kg
RRP*

£37.79


Our Price

£28.99


( £4.46 / kg)


Multibuy: 2 x 6.5kg
individually priced

£57.98


Now

£55.99


( £4.31 / kg)



More photos (2)


(5 reviews )

Hill's Science Plan Adult Performance - Chicken
Many dogs need more energy than others, particularly those that are actively working, hunting or taking part in sporting events. This complete dry food meets those needs in an irresistible recipe!

Delivery in 1-3 working days More

12kg
RRP*

£49.99


Our Price

£34.99


( £2.92 / kg)


Multibuy: 2 x 12kg
individually priced

£69.98


Now

£67.99


( £2.83 / kg)


Hill's Science Plan Canine Adult No Grain - Chicken
Eliminate grains from your dog's diet and reap the benefits with this complete dry dog food, nutritious, highly digestible and full of vital ingredients to promote radiant skin and glossy fur.

Delivery in 1-3 working days More

2kg
RRP*

£14.49


Our Price

£12.49


( £6.24 / kg)


12kg
RRP*

£54.49


Our Price

£45.99


( £3.83 / kg)


Economy Pack: 2 x 12kg
individually priced

£91.98


Now

£89.99


( £3.75 / kg)


Hill's Senior:
Price £ (incl. VAT)
Quantity
Buy

More photos (6)


(5 reviews )

Hill's Science Plan Mature 5+ Active Longevity Large Chicken
Hill's Mature Active Longevity - Chicken for large-breed adult dogs over the age of 5 contains glucosamine and chondroitin to strengthen joints, and antioxidants for a healthy immune system.

Delivery in 1-3 working days More

12kg
RRP*

£50.69


Our Price

£32.99


( £2.75 / kg)


Multibuy: 2 x 12kg
individually priced

£65.98


Now

£64.99


( £2.71 / kg)


18kg
RRP*

£74.39


Our Price

£46.99


( £2.61 / kg)



More photos (2)


(5 reviews )

Hill's Science Plan Mature 7+ Light - Chicken
Hill's Mature 7+ Light – Chicken is perfect for senior dogs that require little energy, such as inactive or neutered dogs, or those that easily put on weight.

Delivery in 1-3 working days More

12kg
RRP*

£52.00


Our Price

£33.99


( £2.83 / kg)


Multibuy: 2 x 12kg
individually priced

£67.98


Now

£65.99


( £2.75 / kg)



More photos (2)


(6 reviews )

Hill's Science Plan Mature7+ Active Longevity Medium Chicken
Hill's Active Longevity Medium – Chicken is aimed at mature dogs aged seven years or above. Its low phosphorus content helps keep the kidneys healthy. Keeps skin and coat in good condition.

Delivery in 1-3 working days More

12kg
RRP*

£50.69


Our Price

£32.99


( £2.75 / kg)


Multibuy: 2 x 12kg
individually priced

£65.98


Now

£63.99


( £2.67 / kg)



More photos (3)


(5 reviews )

Hill's Science Plan Mature 7+ Active Longevity - Lamb & Rice
Your dog's needs will change as it progresses through the years, which is why this complete kibble has been designed with the exact nutrient balance needed for health and vitality in later years.

Delivery in 1-3 working days More

12kg
RRP*

£50.69


Our Price

£33.99


( £2.83 / kg)


Multibuy: 2 x 12kg
individually priced

£67.98


Now

£65.99


( £2.75 / kg)



More photos (2)


(4 reviews )

Hill's Science Plan Mature 7+ Active Longevity Mini Chicken 
Hill's Mature Adult 7+ Active Longevity Mini with Chicken, ideal for older dogs from 7 years who prefer smaller biscuits, natural fibre supports intestinal health, taurine strengthens the heart

Delivery in 1-3 working days More

7.5kg
RRP*

£40.69


Our Price

£28.99


( £3.87 / kg)


Multibuy: 2 x 7.5kg
individually priced

£57.98


Now

£55.99


( £3.73 / kg)


Hill's Science Plan Canine Small & Miniature Mature Adult 7+ - Chicken
Premium dry food for small and miniature breed dogs aged 7+, with antioxidants and balanced nutrients. The healthy ingredients don't overburden the dog's system and promote healthy skin and teeth.

Delivery in 1-3 working days More

3kg
RRP*

£18.99


Our Price

£15.49


( £5.16 / kg)


Multibuy: 3 x 3kg
individually priced

£46.47


Now

£43.99


( £4.89 / kg)


Hill's Special Care:
Price £ (incl. VAT)
Quantity
Buy

More photos (2)


(4 reviews )

Hill's Science Plan Adult Sensitive Stomach - Chicken & Egg
Hill's Science Plan Sensitive Stomach is designed for adult dogs with sensitive digestive systems. It contains an exclusive mix of natural fibres like oats, plus easily-digestible carbohydrates.

Delivery in 1-3 working days More

12kg
RRP*

£54.59


Our Price

£34.99


( £2.92 / kg)


Multibuy: 2 x 12kg
individually priced

£69.98


Now

£68.99


( £2.87 / kg)



More photos (2)


(5 reviews )

Hill's Science Plan Adult Healthy Mobility Large – Chicken
Help relieve bone and joint pain in your larger breed dog with this omega-rich premium dry dog food, complete with fish oil and a blend of 50 vital nutrients in highly digestible ingredients.

Delivery in 1-3 working days More

12kg
RRP*

£54.59


Our Price

£34.99


( £2.92 / kg)


Multibuy: 2 x 12kg
individually priced

£69.98


Now

£68.99


( £2.87 / kg)



More photos (2)


(3 reviews )

Hill's Science Plan Adult Healthy Mobility Medium - Chicken
This complete dry food is for medium-breed dogs suffering with joint issues, helping to improve mobility and make movement less painful and easier. It is enriched with vital nutrients & antioxidants.

Delivery in 1-3 working days More

12kg
RRP*

£54.59


Our Price

£35.99


( £3.00 / kg)


Multibuy: 2 x 12kg
individually priced

£71.98


Now

£70.99


( £2.96 / kg)



More photos (2)


(4 reviews )

Hill's Science Plan Adult Healthy Mobility Mini - Chicken
Hill's Science Plan Adult Healthy Mobility Mini for small breed dogs likely to suffer from joint problems, supports and maintains flexible joints and limber movements, with omega-3 fatty acids

Delivery in 1-3 working days More

3kg
RRP*

£19.99


Our Price

£13.49


( £4.50 / kg)


Multibuy: 3 x 3kg
individually priced

£40.47


Now

£37.99


( £4.22 / kg)



More photos (2)


(4 reviews )

Hill's Science Plan Adult Oral Care - Chicken
Hill's Science Plan Oral Care Dog Food, patented dental technology with tooth cleaning effect, with clinically proven reduction of plaque and tartar, reduces discolouration and leads to whiter teeth

Delivery in 1-3 working days More

2kg
RRP*

£13.29


Our Price

£9.49


( £4.74 / kg)


Multibuy: 3 x 2kg
individually priced

£28.47


Now

£26.99


( £4.50 / kg)


Hill's Puppy & Junior:
Price £ (incl. VAT)
Quantity
Buy

More photos (4)


(7 reviews )

Hill's Science Plan Puppy Healthy Development Large Chicken
Hill's Science Plan Healthy Development – Chicken is suitable for large-breed puppies. Controlled calcium levels promote strong bone development. Low-fat and low-calorie for a healthy weight.

Delivery in 1-3 working days More

11kg
RRP*

£47.89


Our Price

£31.99


( £2.91 / kg)


Multibuy: 2 x 11kg
individually priced

£63.98


Now

£62.99


( £2.86 / kg)


16kg
RRP*

£68.29


Our Price

£40.99


( £2.56 / kg)



More photos (2)


(4 reviews )

Hill's Science Plan Puppy Healthy Development Medium Chicken
Hill's Science Plan Healthy Development – Chicken is perfect for growing medium-breed puppies from weaning to sexual maturity at 1 year of age. Also suitable for pregnant or nursing bitches.

Delivery in 1-3 working days More

12kg
RRP*

£50.69


Our Price

£32.99


( £2.75 / kg)


Multibuy: 2 x 12kg
individually priced

£65.98


Now

£64.99


( £2.71 / kg)



More photos (5)


(4 reviews )

Hill's Science Plan Puppy Healthy Development Lamb & Rice
Help to set your puppy off on the right track in life with this complete dry food, full of tender lamb and a range of vital nutrients, helping your young dog develop into a strong & healthy adult dog.

Delivery in 1-3 working days More

12kg
RRP*

£50.69


Our Price

£32.99


( £2.75 / kg)


Multibuy: 2 x 12kg
individually priced

£65.98


Now

£64.99


( £2.71 / kg)



More photos (2)


(5 reviews )

Hill's Science Plan Puppy Healthy Development Mini - Chicken
Hill's Puppy Healthy Development Mini with Chicken for puppies of smaller breeds from weaning to sexual maturity at 12 months, and for pregnant and nursing bitches

Delivery in 1-3 working days More

3kg
RRP*

£17.49


Our Price

£12.49


( £4.16 / kg)


7.5kg
RRP*

£40.69


Our Price

£28.99


( £3.87 / kg)



More photos (2)

Hill's Science Plan Puppy Small & Miniature Chicken & Turkey
The ideal dry food for small and mini-breed puppies. Promotes a strong immune system and healthy development for brain, muscles and bones. Clinically proven formula with over 50% poultry meat

Delivery in 1-3 working days More

1.5kg
RRP*

£10.69


Our Price

£8.49


( £5.66 / kg)


Multibuy: 3 x 1.5kg
individually priced

£25.47


Now

£23.99


( £5.33 / kg)


Hill's Light:
Price £ (incl. VAT)
Quantity
Buy

More photos (5)


(4 reviews )

Hill's Science Plan Adult Light - Chicken
Hill's Science Plan Light – Chicken is ideal for adult dogs with low energy requirements, including inactive, neutered dogs and obesity-prone dogs. Contains L-carnitine.

Delivery in 1-3 working days More

12kg
RRP*

£51.49


Our Price

£32.99


( £2.75 / kg)


Multibuy: 2 x 12kg
individually priced

£65.98


Now

£64.99


( £2.71 / kg)



More photos (3)


(5 reviews )

Hill's Science Plan Adult Light Mini - Chicken
Hill's Science Plan Mini Light was developed especially for small dog breeds with a tendency to obesity. Low in fat, this tasty food contains chicken and a balanced ratio of nutrients and vitamins.

Delivery in 1-3 working days More

2.5kg
RRP*

£14.99


Our Price

£11.49


( £4.60 / kg)


Multibuy: 3 x 2.5kg
individually priced

£34.47


Now

£32.99


( £4.40 / kg)



More photos (2)


(5 reviews )

Hill's Science Plan Mature 7+ Light Mini - Chicken
A delicious, complete dog food especially formulated to meet the needs of older, small breed dogs. Low fat, it contains essential nutrients and vitamins in an ideal ratio for dogs of 7 years or older.

Delivery in 1-3 working days More

2.5kg
RRP*

£15.29


Our Price

£11.99


( £4.80 / kg)


Multibuy: 3 x 2.5kg
individually priced

£35.97


Now

£32.99


( £4.40 / kg)



More photos (2)


(5 reviews )

Hill's Science Plan Adult Light Large Breed - Chicken
Hill's Science Plan Light Large Breed – Chicken is developed for adult dogs weighing over 25kg that only require a low calorie intake, including neutered, overweight and inactive dogs.

Delivery in 1-3 working days More

12kg
RRP*

£51.49


Our Price

£32.99


( £2.75 / kg)


Multibuy: 2 x 12kg
individually priced

£65.98


Now

£64.99


( £2.71 / kg)

The requested page could not be found
The page you requested could not be found. Please check and try again.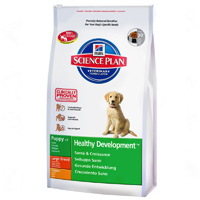 Hill's Science Plan Dry Dog Food
Complete, high-quality kibble for dogs of all ages
A real customer favourite, Hill's Science Plan dry dog food has been specially developed to meet your dog's individual nutritional needs. Science Plan dog food features delicious, easily digestible ingredients and this complete kibble is a popular choice for dogs and their owners that value balanced nutrition and a great taste at a price that won't break the bank.
With an extensive selection of Hill's Science Plan dog food available at amazing prices at bitiba.co.uk, we're certain that you'll be able to find the perfect diet for your dog, whatever their age, size or lifestyle. The Hill's Science Plan range includes tailor-made kibble for miniature puppies, large-breed senior dogs and everything in between. Hill's dog food range also includes specialist diets for sensitive dogs, overweight dogs and dogs that suffer from joint problems.
Check out our brilliant deals on Hill's Science Plan dry dog food at bitiba.co.uk:
If your dog loves Hill's dry dog food, why not add some extra variety to their mealtimes with
Hill's Science Plan wet dog food
? This complete canned food for puppies, adults and senior dogs includes a unique mixture of antioxidants, lean proteins, fatty acids, vitamins and minerals to meet your dog's nutritional needs.
Not what you were looking for? Explore our brand store for more great-value Hill's pet food, including Hill's Prescription Diet Canine dry and wet food for dogs that suffer from common health problems. Alternatively, find more popular dry dog food here.