Dog Beds & Baskets
Discover our great selection of comfortable and sturdy dog beds and baskets. All will provide your dog with the perfect place to sleep. Plus you will pay fair prices for highest quality.
Dog Beds by Type:
| | |
| --- | --- |
| Orthopaedic Dog Beds | As they age, senior dogs tend to develop problems with their joints and muscles. At bit... |
| | |
| --- | --- |
| Wicker Dog Beds | Opt for a classic, traditional style with our great selection of wicker dog baskets. |
| | |
| --- | --- |
| Dog Beds | On the hunt for a new dog bed? At bitiba, we have a large range of comfy and affordable... |
Bedding & Extras:


| | |
| --- | --- |
| Dog Cushions & Pillows | Treat your dog with a super soft and cosy pillow or cushion! Perfect for curling up and... |
| | |
| --- | --- |
| Dog Blankets | Dog blankets are a great way to provide your pet with somewhere warm and cosy to rest, ... |
| | |
| --- | --- |
| Thermal & Heated Pads | In the cold winter months, we seek different ways to ensure our pets are warm and comfo... |
Dog Beds, Blankets and Cushions by Size:


| | |
| --- | --- |
| Size S: < 80cm | Find the perfect dog bed or cushion for your small dog. Length less than 80cm. Find the... |
| | |
| --- | --- |
| Size M: 80 - 100cm | Cuddle beds, dog blankets and cushions for medium sized dogs in all shapes and colours:... |
| | |
| --- | --- |
| Size L: 100 - 120cm | A large dog needs a large dog bed. Here you will find the right bed for your large best... |
| | |
| --- | --- |
| Size XL: >120cm | Extra-comfortable dog beds and soft, cosy blankets for extra-large dogs. Different mode... |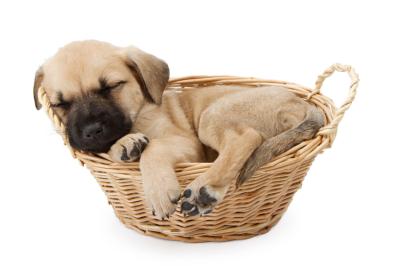 Dog Baskets and Beds
Snoozing just got stylish. Here at bitiba we know that nap-time is a dog's favourite type of day- after dinner of course! And walkies. And playtime....
So when it's snoozing time, treat your dog to only the best with bitiba's fabulous range of discount dog beds. We have a great range of stylish and comfortable dog beds at incredible prices. That includes luxury memory foam beds for dogs and stunning wicker dog baskets. Whatever kind of dog bed your dog's been dreaming of, find it here at bitiba!
Specialist Dog Beds

Orthopaedic Dog Beds
: Whether you're looking for a bed to support an older dog's joints or are simply looking for a memory foam dog bed that just oozes comfort, bitiba have you covered with our lovely range of supportive and comfy beds for a perfect, pain-free sleep for your pup.
Hygienic Dog Beds
: If your pup is on the sensitive side, consider investing in a hygienic dog bed. These beds are super easy to clean, keeping ticks and fleas away and come with hypo-allergenic memory foam mattresses. Yes please!
What else?
If you're looking for a perfectly stylish dog basket, why not look at our range of
wicker dog beds
? A wicker dog basket is a stunning classic which your dog will love.
And after bagging yourself a bargain dog bed, why not make it even cushier with our range of
cushions for dog beds
and cosy
dog blankets
for pups who are as snug as a bug in a rug.
Browse by size
If you're feeling a bit spoilt for choice (sorry about that!) then why not explore our range by size? The dog bed you've been dreaming of awaits...

And if there's any pet that loves snoozing more than dogs, it's cats! Why not explore our range of cosy cat beds whilst you're here?
Back to the top