Wet cat food pouches that can be used in a diet to help obese cats to lose weight. This complete food is low in starch and high in protein, with lower energy density, with added bone and joint care.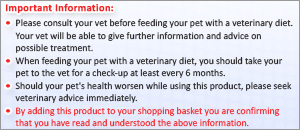 Royal Canin Veterinary Diet – Obesity Management is a special diet that can help your cat lose weight and maintain its ideal body condition. Neutering can change your cat's metabolic activity, which can lead to your cat gaining excess weight. Obesity carries long-term health risks and also dramatically shortens life expectancy and importantly it also affects your cat's overall well-being. Excess energy intake, overeating and a lack of exercise can lead to your cat becoming obese, but using a specialised diet food can help you to slow and reverse the weight gain process.
Royal Canin Veterinary Diet – Obesity Management is a delicious moist cat food in handy pouches that helps to encourage weight-loss. It has a lower energy density, which means that your cat can eat as much as it likes without taking in too many calories, and it also has a high protein content, which helps to reduce loss of muscle mass. The inclusion of chondroitin sulphate and glucosamine can also help to prevent joint deterioration.

Indications:
Diabetes mellitus
Fat deposits
Contraindications:
Pregnancy or lactation, kittens
Key benefits:
Joint protection: chondroitin sulphate inhibits the enzymatic damage to chondrocytes, while glucosamine stimulates formation of glycosaminoglycans. Together, they counteract degenerative joint diseases that are common in overweight cats.
High protein content: helps to reduce loss of muscle mass, while also satisfying your cat's hunger.
Energy dilution: can decreases the energy intake to help combat weight gain, while the low-calorie formulation makes increasing the frequency of feedings possible, which makes your cat feel fuller.
Low starch: helps to reduce the development of post-prandial hyperglycaemia.
Length of treatment:
The target weight, the daily amount of food and the length of time your cat needs to stay on this food depends on how much weight needs to be lost. The ideal weight-loss should be between 0.5-2% of the bodyweight per week. Closely monitoring your cat's weight is very important, as cats can be at risk of developing feline hepatic lipidosis if they lose weight too quickly. After your cat has reached its target weight, you should weigh your cat regularly ensure that it maintains an ideal body weight .You can help your pet to maintain its ideal body weight with Royal Canin Obesity Management or Vet Care Nutrition for neutered cats. In all cases, the energy intake must not exceed 10% of the quota given in the last diet.
Further information:
The following advantages of a hypocaloric diets with a high protein content include:
High acceptance
Proteins having a comparable metabolised energy level of 30% less net energy than carbohydrates.
Helps to prevent muscle-loss during dieting
Therapeutic veterinary diets are carefully formulated and recommended to be used in conjunction with veterinary advice and support.
Royal Canin strongly recommend you seek advice from your vet prior to and during feeding of any of these products to your pet.